Upcoming Events
Alumnae Private Rooftop Happy Hour – TONIGHT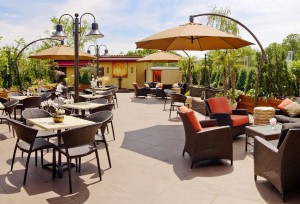 We invite our alumnae to join us for tonight's Women's Rooftop Happy Hour at Il Bacco of Little Neck! Though online registration is now closed, walk ups are welcome. Enjoy a buffet dinner, open bar, and a unique opportunity to connect with your fellow Stanner alumnae. The event will take place on Il Bacco's private rooftop patio from 7-10pm. Last minute inquiries should be forwarded to Matt Rizzotti '04.
Stanner Alumni Reunion – 2 WEEKS AWAY!
When: Saturday, November 5th, 2016
Where: Archbishop Molloy High School
Classes of: '56, '61, '66, '71, '76, '81, '86, '91, '96, '01, '06, '11
Admission Pricing: See your event page for more info
Contact: Matt Rizzotti '04 | (718) 943-3186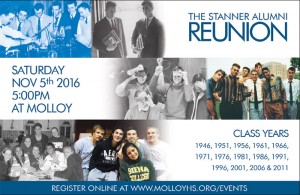 The Stanner Alumni Reunion serving class years ending in 1 and 6 is just two weeks away! Time is running out to register, so please don't delay. Signing up as soon as possible will ensure your seat at dinner and will provide Molloy with an accurate headcount that will allow us to best serve all of our guests. A deadline to register has been set for October 31st. Please spread the word, bring a friend, and help us make this a memorable night.
Your admission includes cocktail hour, dinner, dessert, and open bar. Each class will have a group photo taken too, while a photo booth will be available later in the evening! More info about the evening's program and online registration can be found on your class event page. If you have any questions please contact the staff at the Stanner Alumni Center | (718) 441-9210 | alumni@molloyhs.org
Alumni Race at Van Cortlandt Park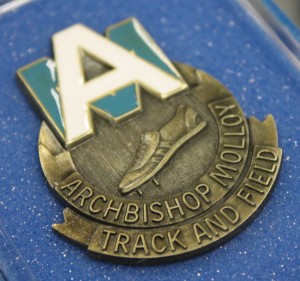 Molloy is looking for alumni to compete in this year's Alumni Race at the CHSAA Intersectional Championship Meet on Saturday, Nov 12th at 2:15 pm in Van Cortlandt Park. According to Mr. Gambino, all-stars Tyler Bay '11, Michael Reddy '16, Alex Goldberg '16, and Jessica McEntee '05 will be running this year, but they need your help! The bigger Molloy's entry, the better our chances of finishing in the top spot. Plus, Mr. Gambino and Mr. Dombrowski will be bringing up the rear to make sure everyone finishes the race! Please contact the emails above if interested.
Stanners & Friends Lap Briarwood For Harvey 5K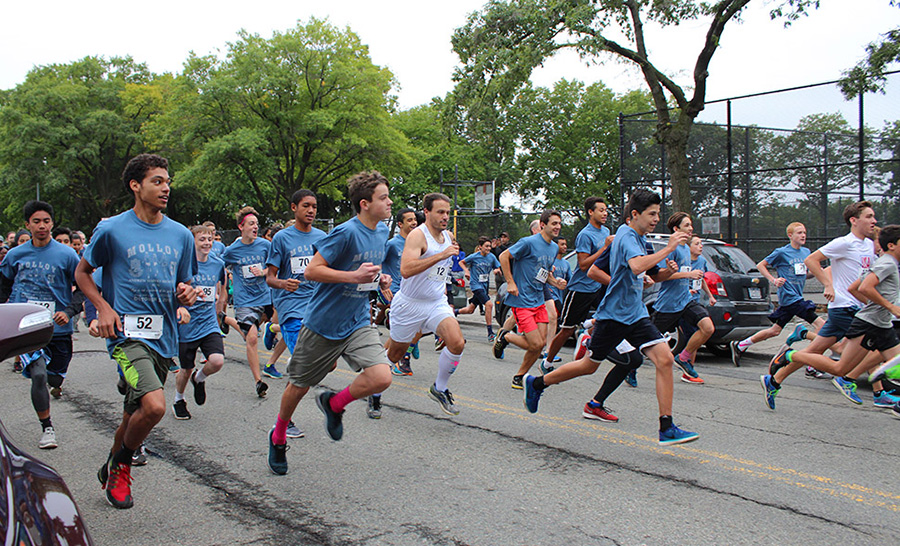 On behalf of Mr. Frank Gambino '74, all of our track & field coaches, the entire staff at Molloy, and the Harvey family, we would like to thank everyone who participated in this year's Andrew Harvey Memorial 5K Fun Run on October 2nd. Over 115 alumni, students, and friends ran our annual 5K or One Mile races through the streets of Briarwood. The top three times in this year's 5K were all claimed within just three seconds of each other. Tyler Bay '11 finished third with a time of 17:03:0. Fred Murgida finished at 17:01:0. Our top finisher was recent Milrose Games champ Michael Reddy '16 with an impressive time of 17:00:0 on the nose. Photos and results by time and by group for each race can be downloaded by clicking the links below. Join us next year for what will be the 30th anniversary of this wonderful event!
5K Results by Time | 5K Results by Group | One Mile Results by Group

Around the School
Open House Welcomes Over 4,000 Visitors
We are pleased to share that Molloy welcomed over 4,000 visitors, among them many prospective students and their parents, to our Open House on October 16th. Each year at Open House our students, administrators, teachers, counselors, and coaches work together to bring out the best in our school. Everyone's goal is the same: make a lasting impression on the best and brightest students in New York City and Long Island.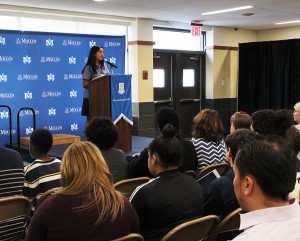 Our approach to this year's Open House was a bit different this year. In an effort to improve an already strong program, an Open House Committee was established several months ago. The committee, comprised of administrators, teachers, and staff members, collaborated and collected feedback on ways to improve Open House. One of the outcomes of those discussions was to establish a brand new format. Upon entering Molloy via Manton Street, visitors first experienced the "wow factor" of the newly renovated main lobby and security desk. From there they were directed to the cafeteria for a special presentation. "The Open House Committee felt it was important to add a personal touch to the program," explained Ms. Leslie Poole Petit, Molloy's Admissions Director. "We scheduled different speakers throughout the day who shared their own Stanner stories. The presentations served 300 visitors at a time each half hour." Speakers included teachers and counselors who are also alumni, including Mr. Bill Flemen '94 (Social Studies), Mr. Brian Kelly '94 (English, Esopus), and Mr. Chris Dougherty '91 (Guidance Chair), as well as phenomenal students like juniors Vasilia Plakas '18 and Diana Alvarado '18. (Pictured: A student speaks in front of Open House visitors)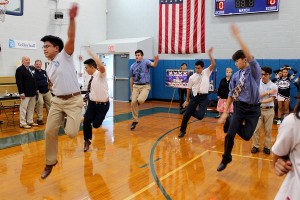 Following the presentation, student tour guides led visitors along one of three different routes throughout the building. "Using three tour routes with different starting points helped to create a more even flow of guests throughout the building," said Ms. Poole Petit. Tours highlighted Molloy's classroom and lab facilities as well as academics, athletics, the arts, and many extracurricular activities. From Knitting Club to The Stanner Players, Campus Ministry to Varsity Basketball, and Lacrosse to Step Team, every aspect of student life was on full display. "The enthusiasm of our students and faculty was genuine," said President Richard Karsten '81. "I believe those who came to this year's Open House were left with an overwhelmingly positive impression of our school. A big part of that is our sense of family, which is evident in everything that we do here. I look forward to seeing many of the visitors we met become members of that Stanner family in 2017." | Read more about Molloy Admissions
Congratulations Br. Pat Hogan!
Everyone at Molloy would like to extend our sincerest congratulations to teacher, coach, and friend Br. Pat Hogan, who was inducted into the St. Francis de Sales School for the Deaf Hall of Fame earlier this month. As many know, Br. Pat has spent decades serving the deaf community, particularly at Esopus Deaf Camp. On a broader scope, Br. Pat has dedicated the majority of his life to serving those in need, particularly the poor and the disadvantaged members of our communities. Br. Pat is a wonderful example of the Marist charism at work, and we couldn't be happier for him to receive this well-deserved honor.
Kemp '17 Selected For Prestigious Chorus Performance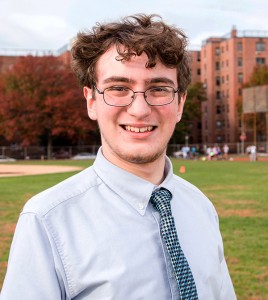 Senior David Kemp '17 has been selected to perform with the All-State Mixed (Coed) Chorus in association with the New York State School Music Association (NYSSMA). David will perform Bass 1 for the chorus in Rochester, NY, at the NYSSMA Winter Conference to be held December 1st through 4th (More information). NYSSMA is an elite music study program that strives to advance excellence in music education and individual professional growth. The conference will feature many top student talents from across New York State. David has previously studied and performed with NYSSMA and is skilled in ensemble and solo opera. Congratulations, David!
Molloy Welcomes Reps from Williams College, Barnard & More
It's no secret that Stanners are recruited by many of the most acclaimed colleges in the country. Every year, representatives from schools such as Amherst, Boston College, Columbia University, Fordham University, Northeastern, and Notre Dame are among the many institutions that visit Molloy to speak directly with our students. Face-to-face meetings with college representatives are a critical part of the application process, as these sessions can provide deeper insights into whether a college is the right fit for each individual student.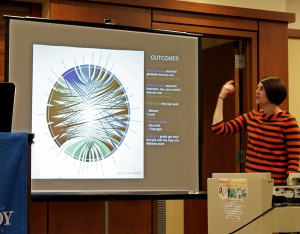 In October, Williams College, the renowned liberal arts school in Massachusetts, joined a growing list of universities who choose to visit Molloy each year. Ms. Elizabeth Creighton (pictured), Deputy Director of Admissions, led an informational presentation open to all Stanners as well as students and families throughout Queens. Ms. Creighton provided information about admission requirements, unique course offerings, financial aid, mentorships, and day to day life at Williams College. "It was a pleasure to host Ms. Creighton," said Mr. Ted McGuinness '81, one of Molloy's college guidance counselors. "Williams College is an elite, highly competitive school. We are honored to have them not only show interest in our students, but to recognize Molloy as an accessible and diverse school within the greater educational landscape in Queens." We also received good news about a recent Molloy grad currently attending Williams. "Ms. Creighton informed me that Emily Peckham '16 is doing very well so far, and that she is gearing up for the start of an exciting basketball season. Emily is expected to be a big contributor for the Williams College Ephs," said Mr. McGuinness.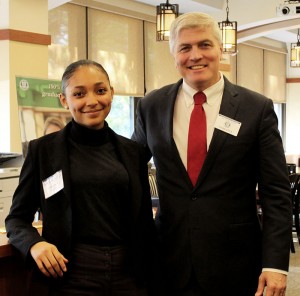 Later in October, Molloy also welcomed a representative from Barnard College. Ms. Jacqueline Perez, Associate Director of Financial Aid, joined Mr. McGuinness and fellow college guidance counselor Mr. Gus Esgro on October 11th in leading a Financial Aid presentation open to all Molloy families. Ms. Perez spoke in front of an audience of 200 on all aspects of financial aid including the FAFSA and the CSS Profile. She also fielded individual questions during a Q&A. "I met Ms. Perez during a recent visit to Barnard along with three of our current senior women," said Mr. McGuinness. "She could not have been more kind to us, and she was gracious enough to accept our invitation to speak at Molloy. Her visit is a credit to her and Barnard, but it also speaks volumes about how they view Stanners. The information she shared has since been very beneficial for our families." Barnard College is already home to several recent Molloy grads: Christy Dey '16, Stacy Kanellopoulos '16, and Connie Raptis '16. (Pictured: Christy Dey '16 volunteered at Molloy's Open House on October 16th. Pictured with Mr. Ted McGuinness '81) | Read More about Molloy's College Guidance program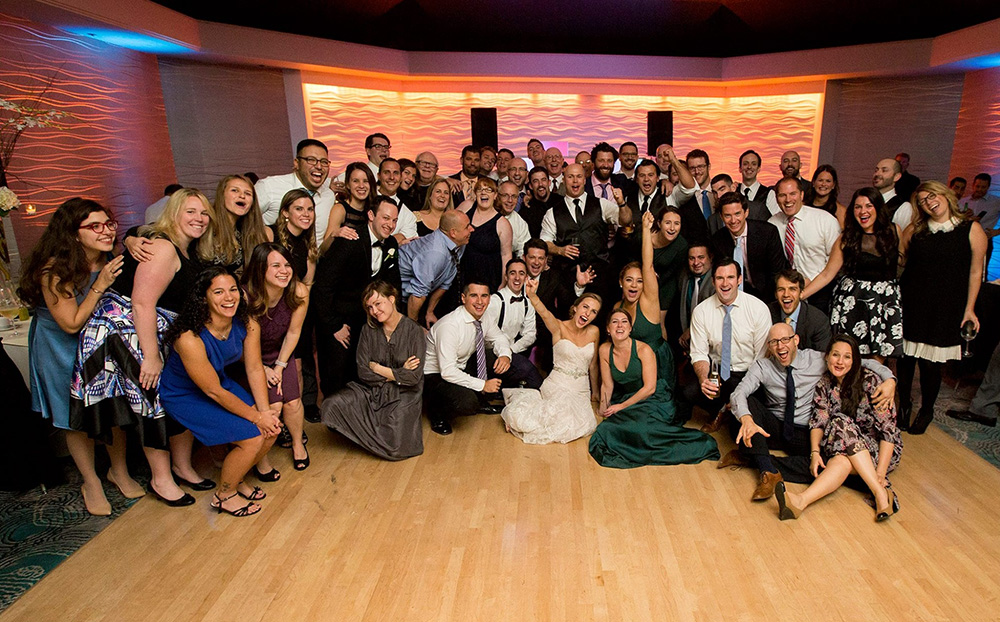 Congratulations to social studies teacher Sabina Kobinski '04 and Tim Sullivan '00, who were married on Saturday, October 15th at St. Adalbert's RC Church in Maspeth. Their reception was held at Crescent Beach Club in Bayville. The photo above, provided by the happy couple, quite frankly features too many Stanners and teachers to count! Several generations of alumni are represented in the photo as well. Take a look and see who you can spot. Also of note: Sabina and Tim met once upon a time at Esopus!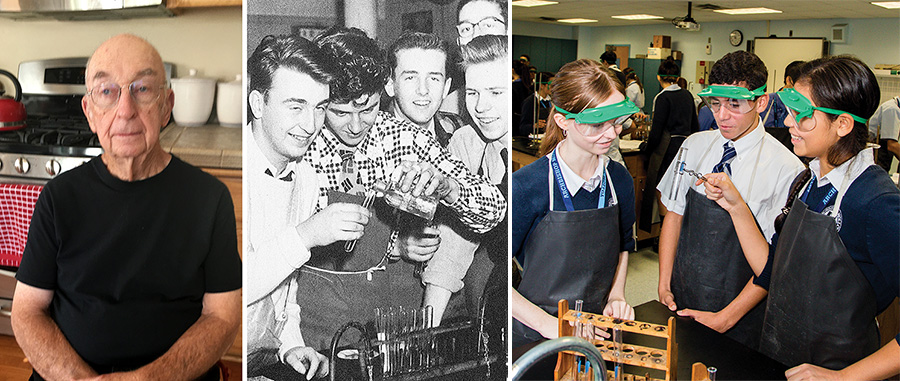 Joe Corello '52 sent us a note after he received his summer 2016 issue of Stanner Life magazine. He noticed a photo on page five of students in our chemistry lab. It reminded Joe of a photo he appears in in the St. Ann's 1952 yearbook. "I'm the guy on the left with the grin. I had a lot more hair back then," Joe joked. (Pictured above left: Joe Corello '52 | Center: Corello, Schindler, Brennan, Dowd | Right: Molloy today)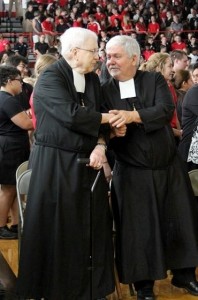 Br. Brendan Brennan '54 (John Joseph Brennan) renewed his vows as a Marist Brother in front of the student body of Marist High School in Chicago, Illinois, during the Mass of the Holy Spirit. The occasion marked his 60th year as a Marist Brother as well as his 80th birthday. Br. Brendan has been at Marist High School for 24 years. During that time he has taught religion, overseen Marist Youth and service projects, and worked with their music ministry and retreat program. Today, Br. Brendan continues to go on senior retreats, work with the liturgy planning committee, and contributes to other aspects of campus ministry. During his career he worked at Marist High School in Eugene, Oregon, Our Lady of Lourdes in Poughkeepsie, Mt. St. Michael Academy in the Bronx, and Central Catholic High School in Lawrence, Massachusetts. He was a fixture in each school's religion department. Congratulations, Br. Brendan! (Pictured: Br. Brendan Brennan '54 (left) shakes hands with Br. Patrick McNamara, US Provincial)
Edgar Montenegro '90 is set to participate in the 13th Annual Long Island Fight for Charity on November 21st. "I am not a boxer, and neither are the other participants, but I've always looked for ways to give back to the community," said Edgar. "I have four children of my own, so raising money for children with special needs is something that hits home for me. Whatever I can do to make that contribution is certainly worth my time and effort."


We are saddened by the passing of Anthony Witt '61 after a long illness. Tony was a retired Sergeant out of the Nassau police department and was beloved by all. Please pray for Anthony, his wife Dorothy, and their family.

Please pray for the repose of the soul of Maria Dilluvio, mother of freshman Jack Dilluvio '20.

We ask our community to pray for the repose of the soul of Thomas F. Tabone, father of Charles Tabone '68. Please also keep the Tabone family in your prayers.

Please pray for the repose of the soul of Patricia Bauso, mother of Daniel M. Bauso '86. Your prayers are deeply appreciated by Dan and the Bauso family.

We ask our community to pray for the repose of the soul of Mrs. Joan Callagy, loving wife of Faustin Callagy, St. Ann's Class of 1948. Please also keep the Callagy family in your prayers.

We were recently informed of the passing of Patrick Connolly '61 on December 22, 2015. He is survived by his wife, Sharon, and their children. Please pray for the Connolly family.

We were recently informed of the passing of Ronald Magalik '61 on July 29, 2016. Ron was a US Marine Corps veteran who served from 1963-1969. He was later a custodial engineer for the NYC Board of Education and retired in 2009. Please keep Ron and the Magalik family in your prayers.