Class of 1963 Continues Memorial Day Tradition
On Memorial Day, we remember all those who bravely served our country and made the ultimate sacrifice. Each year, Molloy's Class of 1963 continues a special tradition in observation of Memorial Day, donating a wreath in honor of their classmate, Private First Class Louis Willett '63. Molloy thanks our Class of 1963 for continuing that tradition again on May 29, 2023.
PFC Willett posthumously received the Congressional Medal of Honor "for conspicuous gallantry and intrepidity at the risk of his life above and beyond the call of duty." He was mortally wounded on February 15, 1967, in Kontum Province, Vietnam, while purposefully drawing enemy fire away from his platoonmates, allowing for their safe retreat. PFC Willett's courage and selflessness continue to be remembered by our community, and especially our Class of 1963.
We are proud to honor the legacy of PFC Willett and of the many others who have made the ultimate sacrifice in service to our country.
---
Seniors, Families, Faculty Gather for Grad Liturgy
On Thursday, June 2nd, the Molloy community gathered at St. Nicholas of Tolentine R.C. Church to celebrate our annual Graduation Liturgy. Celebrating this Mass together gives our seniors the opportunity to gather in prayer one last time as a class before they graduate and move on to the next phase of their lives. It is also an opportunity for our senior families, and Molloy's faculty and staff, to join in prayer with the Class of 2023 and remind them that we stand behind them and continue to offer our love and support as they prepare for college and beyond.
During Mass, several students were presented with Champagnat Awards in recognition of their commitment to service and putting the needs of others before their own. Congratulations to this year's Champagnat Award recipients (group pictured above left to right): Lindsey O'Neill, Aiden Wynter, Isabella Jorge, Tarik Lajoie, Madelyn Marshall, Nicholas Mohabir, Grace Murphy, Stephanie Mohabir, and Sophie Navarrete.
Five seniors were also recognized with Pillar Awards for embodying the qualities one of the five Marist Pillars. Congratulations to (pictured above clockwise with President Karsten or Principal Penikas): Anthony LaRussa (Presence), Mary Toner (Simplicity), Favour Olobor (Love of Work), Sarah Stafilias (Family Spirit), and Emma Hertler (In the Way of Mary),
Next up: Graduation! We look forward to seeing the Class of 2023 and their families on Sunday, June 4th at St. John's University as we celebrate Molloy's/St. Ann's 130th Commencement Exercises!
---
Athletic Awards Recognize Student Athletes
On May 23rd, Molloy celebrated the achievements of our outstanding student-athletes during the annual Athletic Awards Ceremony. Organized by the Athletic Director Mr. Mike McCleary, Student-athletes from each JV and Varsity team were recognized for their performance and contributions to their team throughout the 2022-23 season.
Athletes were eligible to receive several different awards. The Coach's Award spotlights a talented athlete whose heart and camaraderie make them an invaluable member of their team. The MVP Award honors the top overall athlete on a team who may also have broken records, qualified for states, or exhibited leadership qualities. The Scholar Athlete Award recognizes four-year athletes who excel in the classroom while achieving an excellent GPA. The Curran Award is presented to the top overall male and female athletes annually.
This year also marked the first time The Firefighter Timothy Klein '08 Scholarship was awarded to outstanding male and female athletes. Nominees for the Firefighter Timothy Klein '08 Scholarship are current juniors (rising seniors) who have attended Molloy for at least three years and are in excellent academic standing. Nominees also play at least one sport and demonstrate dedication, hard work, and empathy toward others. In addition to a plaque, each recipient is awarded $2,500 to be applied to their senior year tuition.
Congratulations to Matthew Beehler '23 and Grace Murphy '23 for being awarded The Curran Award (Outstanding Senior Athlete Award), as well as the first recipients of The Firefighter Timothy Klein '08 Scholarship, David Lorthe '24 and Kaitlyn Nestor '24!
Click the buttons below for a full list of award winners and all photos from the evening.
---
Afro-Caribbean Club Networking Hour
Earlier this Spring, Molloy's Afro-Caribbean Club hosted a Professional Networking Hour! Organized by the Council for Diversity and Inclusion, the event welcomed four Black professionals from a variety of fields who spoke to members of the club about their experiences in school and their workplace.
Panelists included: Tenisha McDonald '07, a PhD candidate in the Departments of English and African American Studies at Princeton University, founder of Writer's Ink NYC, LLC editing company, and co-founder of Molloy's Council for Diversity and Inclusion; Tolu Jolaoso '15, a project management associate at Achievement First who is working on her Masters in Global Affairs with a concentration in Global Gender Studies; Ariel Narine '19, a rising college senior majoring in Aeronautical Engineering at Rensselaer Polytechnic Institute and an intern at Boeing in Seal Beach California, who founded RPI's Caribbean Students' Association; and Aramiss Webber, a healthcare management professional and corporate financial supervisor at United Healthcare. Ariel also served as the moderator of the event, asking questions and guiding conversation. Before the event concluded, students and panelists had the opportunity to engage in more personal conversations with one another.
Thank you to the Council for Diversity and Inclusion for participating in the event as well as facilitating this wonderful opportunity for our students!
---
NY/NJ Marists of Champagnat Gather in Flushing
Recently, Marists of Champagnat from New York and New Jersey joined the Marist Brothers at the Marist House of Welcome in Flushing for an evening of prayer, reflection, and dinner. The gathering served as an opportunity to meet, share a meal, and pray with other local Marists of Champagnat. Featuring iconic and meaningful Marist objects, prayer was led by Lori Wilson and Matt Corrado, both Campus Ministers at Molloy. The delicious dinner was prepared by President Richard Karsten '81 and Br. Luis Ramos, who began teaching Religion and World Language at Molloy in fall 2022. Attendees also included several past and present Molloy faculty and staff. Br. Mike Sheerin, who attended the gathering, shared that the evening made clear that the Marist charism is thriving at Molloy and in the US Province.
---
Stanners Receive Community Service Awards
Molloy is excited to announce that nearly 50 students have been recognized by the United Nations Association of the USA (UNA-USA) and InnerView in the sixth Annual Community Service Awards! This program, open to all U.S. students, has been designed to connect student community service activities, skill development, and commitment to the Sustainable Development Goals (SDGs) to transform our world.
"Kudos to all those who have committed to staying the course and doing their part to help actualize the SDGs," says Rachel Bowen Pittman, Executive Director of the UNA-USA. Stanners delivered the most impact for SDG 3: Good Health & Well-Being. With a collective impact of 7,574 community service hours this school year, Molloy has earned the Emerald Award!
"What a fabulous group to lift up; these purposeful students are taking action to create a better tomorrow for their communities and the world," says Kristine Sturgeon, CEO of InnerView Technologies. The three-tier award program recognizes a range of student achievement measured in service hours: Merit, 25 hours; Honor, 40 hours; and Ambassador, 100 hours. Students received special recognition for a focus on Zero Hunger/Waste. Click below for the list of award winners.
---
Junior/Senior Chorus Spring Concert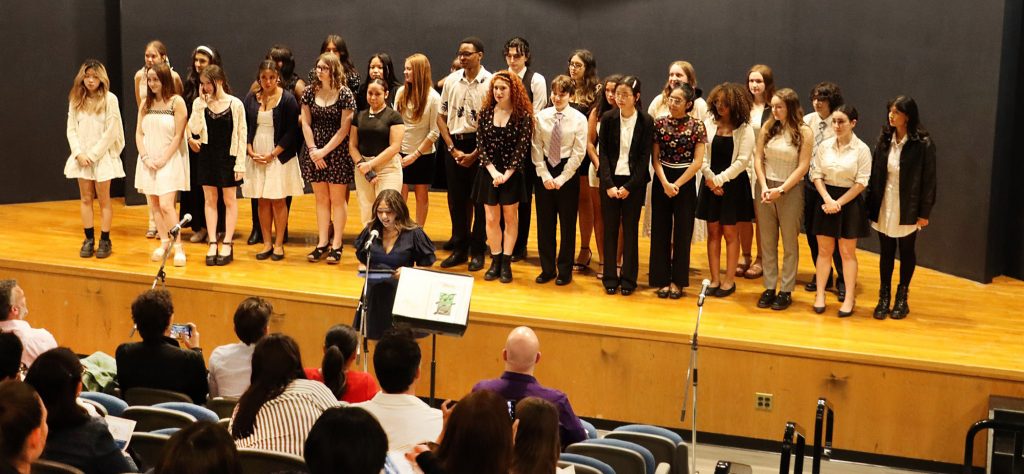 On Wednesday, May 24th, Molloy's Junior/Senior Chorus performed in their annual Spring Concert! Stanners took the stage singing a wide variety of Broadway songs, with performances ranging from Mamma Mia's "I Have a Dream," to Hamilton's "Burn." Family and friends applauded greatly when seniors presented Mr. Jim Sheehan '75 with flowers and a gift, thanking him for being an encouraging and supportive teacher and chorus director. A special thank you to our longtime Piano Accompanist Mr. Kenneth Farnum, and everyone who made the night happen!
---
Stanner Sports Updates
Congratulations to our Varsity Softball team, who are Brooklyn/Queens Champions! The team bested Xaverian by a score of 3-2, with Ava Hershkovitz '24 connecting for a walk-off hit to end the game in the 8th inning. Sofia De La Rosa '23 pitched all 8 innings with 3 strikeouts while allowing 6 hits. The team advanced to the City Championship. Below, please enjoy a great video news segment about the team produced by Currents TV!
Congratulations to our JV Baseball team, who are 2022-23 Brooklyn/Queens Championship! The team advanced to the City Championship game.
In Track & Field, Molloy placed 2nd in Brooklyn/Queens, 2nd in NYC, and 2nd in the NY State Catholic Championship. Eva Gonzalez '24 is Catholic State Champion, setting a Molloy record of 57.44 seconds in the 400M. Eva will represent Molloy at the NY State Federation Championship on June 9th in Middletown, NY. At the Warwick Fast Times Invitational, the team of Maria Badalamenti '25, Erika Strumpf '23, Camille Munoz '25, and Eva Gonzalez '24 broke the 4×400 Relay meet record by over 5 seconds! Camille set a new record in the Pentathlon (100M High Hurdles, High Jump, Long Jump, and 800M Run). Congratulations to the Boys Track & Field team, who finished 2nd in Brooklyn/Queens.
---
Student Work Featured In Congressional Art Competition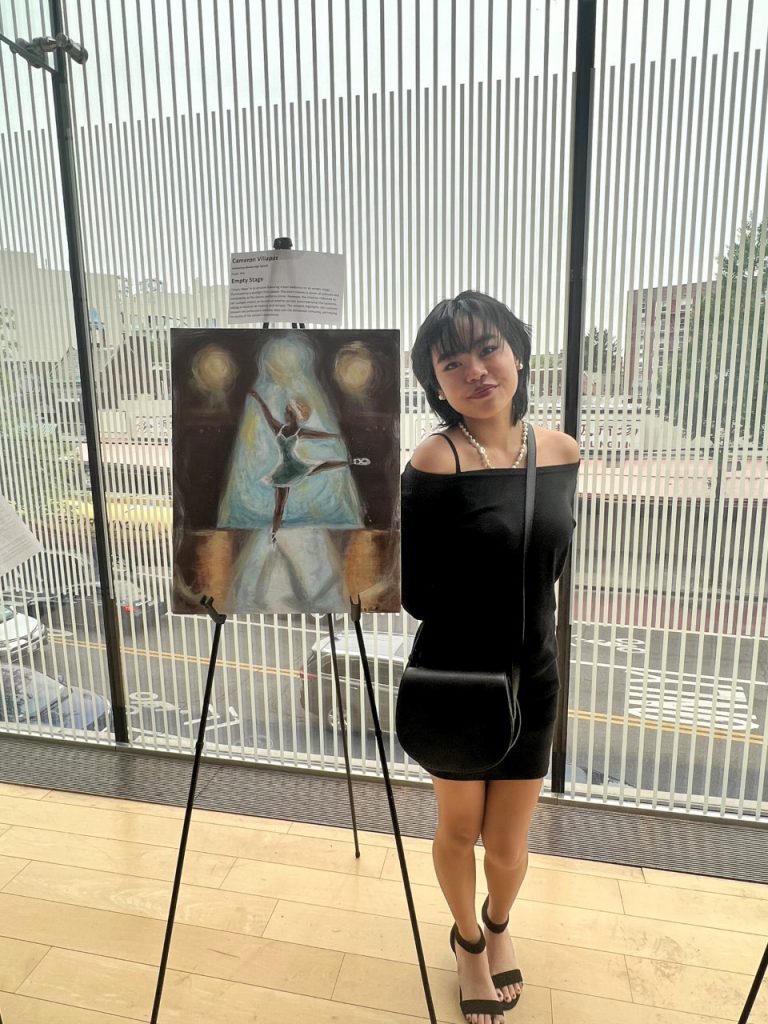 Congratulations to Imani Germano '25 and Casper Villapaz '25, who recently had their artwork featured as part of a Congressional Art Competition! The competition was sponsored by the office of Congresswoman Grace Meng and showcases the work of high school students in New York City's 6th Congressional District. Special thanks to art teacher Ms. Christine Tudor for encouraging Imani and Casper to participate!
---
Model UN Visits Columbia University
Earlier this spring, thirteen students from Molloy's Model United Nations Club returned to Columbia University for another CESIMS conference. While there, students heard from Ana Jimenez, the Deputy Permanent Representative of Spain to the UN, who delivered opening remarks. In committee sessions, students from different cities around discussed topics as varied as Internet security and free speech, the Central and South American refugee crisis, and more. While all Stanners performed well, three students received special honors: Jules Nohar '25 and Bryana Quintero '25 were awarded "Most Improved" for their role as Germany in the Disarmament and International Security Committee. Daniel Giovanniello '24 was also awarded "Most Improved" for his role of Jasper Tudor in the War of Roses committee.


---

Class of 1983 Reunion Warm-Up
In anticipation of their upcoming 40th Anniversary Reunion on November 4th, a large festive group of '83 alums gathered on May 17th at Pando 39 in Manhattan. As evidenced by their photos, a fine time was had by all and the group is looking forward to an even better time in November! Other interested '83 alums with questions should reach out to any of the '83 Alumni Committee members: Craig Addeo / caadd231@aol.com, James Brattoli / jamesbrattoli@live.com, Dr. James Lynch / jandtlynch@verizon.net, or Tony O'Shea / tonyoshea@optonline.net.
---
Molloy thanks Albert Beer, Ph.D., '67 for visiting Molloy on May 26th to serve as a guest speaker. Mr. Beer shared a presentation with several of Molloy's math classes throughout the day. Mr. Beer serves as an Assistant Professor and member of the faculty of St. John's University's School of Risk Management and Actuarial Science at the Peter J. Tobin College of Business. Students received information about how they can further develop their skills and nurture their interest in mathematics through the study of Actuarial Science and Risk Management, both of which are offered at St. John's University. Thank you, Mr. Beer, for sharing your insights with our students!
---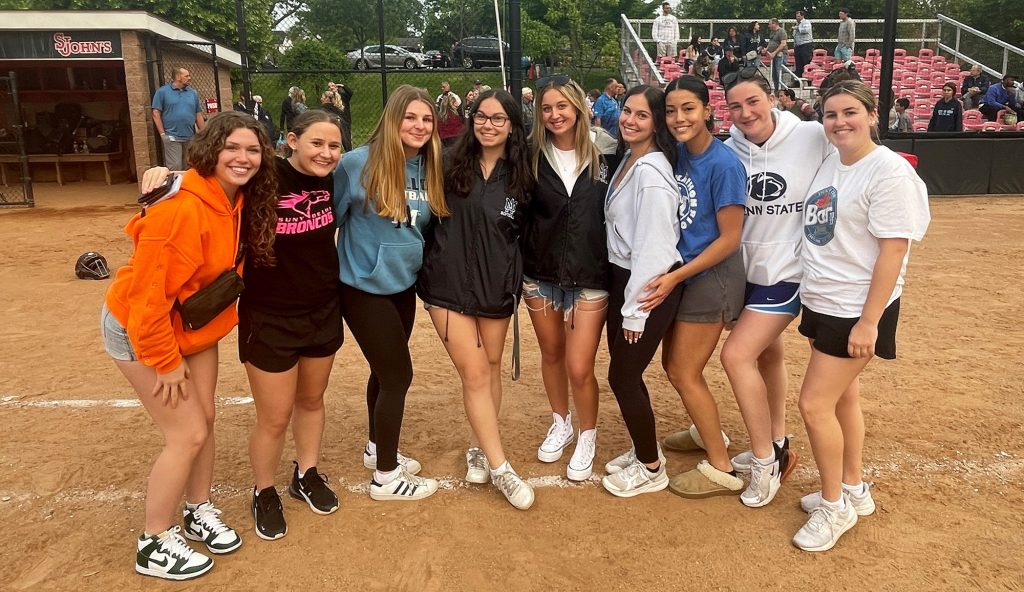 Thank you to our alumnae, who recently came out to support the Varsity Softball team as they played for the City Championship! Pictured above left to right: Leah Rose O'Connor '22, Caterina Fox '21, KC DeSarno '22, Anna Lipovak '22, Angie Rama '22, Emily Lipovak '22, Eleina Perez '21, Marissa Stephens '19, and Regan Goger '19.
---
Congratulations to Robert Schnell '79, who served as Community Service Grand Marshal at the Forest Hills Memorial Day Parade on Sunday, May 28th! Robert was honored alongside other local community members who have shown "exemplary service in different ways." | Click Here for More Information
---
Congratulations to Rev. Steven Michael Peter Neier, C.O., '98 who celebrated his Ordination to the Catholic Priesthood on May 27th at St. Patrick's Cathedral. His Eminence Cardinal Timothy Michael Dolan, the Tenth Archbishop of New York, offered the Invocation of the Holy Spirit.
---
On May 17, 2023, Anthony Gelo '96 and Mike Palladino '96 worked their 3rd straight Molloy Senior Prom at Leonard's Palazzo. Anthony was the DJ and Mike was the party photographer. For booking inquiries, Anthony can be reached at Anthony@queensdj.com and Mike can be reached at coachmikepics@yahoo.com.
---
Matthew McDade '19 was spotted being interviewed as part of a local news broadcast about the beginning of Fleet Week. Matthew shared that it's always great to return to New York City for Fleet Week, especially because of the opportunity to visit family. | Click Here for News Story & Video


Please pray for the repose of the soul of Stanner Hall of Famer Robert S. Zieminski '64, who passed away on May 26, 2023. | Click Here for Memorial Page
---
Please pray for the repose of the soul of John Kramer Sr., father of faculty member Deacon John Kramer, who passed away on May 23rd. He is remembered as the foundation of the Kramer family and was beloved by many.
---
Please join us in prayer for the repose of the soul of Eugene J. Milmoe, who passed away on May 17, 2023. Eugene was the beloved brother of James Milmoe '78 and cousin of Stephen Milmoe '70.
---
We are saddened to share the passing of Francis J. Kilkelly, Jr., father of Michael J. Kilkelly '76 and Dr. Francis X. Kilkelly '80. Francis passed away on May 7, 2023. Please keep Francis and the Kilkelly family in your prayers. | Click Here for Memorial Page